reinpapier® is an innovative packaging product from DE-PACK. reinpapier® has exceptionally good environmental properties and can be optimally used for sustainable packaging projects. The ecological characteristics of the material can be seen in the videos above. Due to the high starch content of 70%, this packaging is naturally biodegradable within a few weeks.
Ask us how you can convert your packaging to reinpapier® to make a valuable and forward-looking contribution to the environment.
reinpapier® - a Packaging Product by DE-PACK
We achieve our high packaging standards through a high degree of creativity, technical innovation and a great deal of know-how. This results in high-quality and sustainable packaging solutions that meet almost all requirements of the packaging industry on a natural basis. That is why you will also find environmentally friendly injection molded paper packaging in our range, which is 100% organic and 100% dimensionally stable.
So imagine a world where natural packaging safely protects your packaged goods during transport and storage. Packaging that consists largely of potato starch and paper and can be simply composted after use and can completely biodegrade within a few days - completely and without harmful residues.
Welcome to the reinpapier® brand, a new product line from the innovative packaging service provider DE-PACK. reinpapier® meets all the requirements of modern and environmentally friendly packaging and is completely biodegradable without leaving any residues.
Contact DE-PACK for a consultation on how your current packaging can be replaced with reinpapier®; not only to save the planet from toxic residues, but also to secure a financial advantage over your competition
Sustainability is a financial advantage in the long term.
What is reinpapier®?
Our reinpapier® packaging solutions are among the most environmentally friendly packaging materials in the industry. Together with you, we reduce the environmental impact of packaging to a minimum. reinpapier® was created for the highest demands and environmentally conscious packaging. An ingenious idea and an innovative raw material mixture of totally natural ingredients have resulted in one of the most sustainable packaging products of recent years.
reinpapier® – From Nature. Back to Nature.
Natural Compatibility without Compromise
The world has been waiting for reinpapier®! We present one of the most environmentally friendly packaging solutions in the industry! The considerable impact of plastic on our ecosystem is reduced many times over with this original and innovative packaging.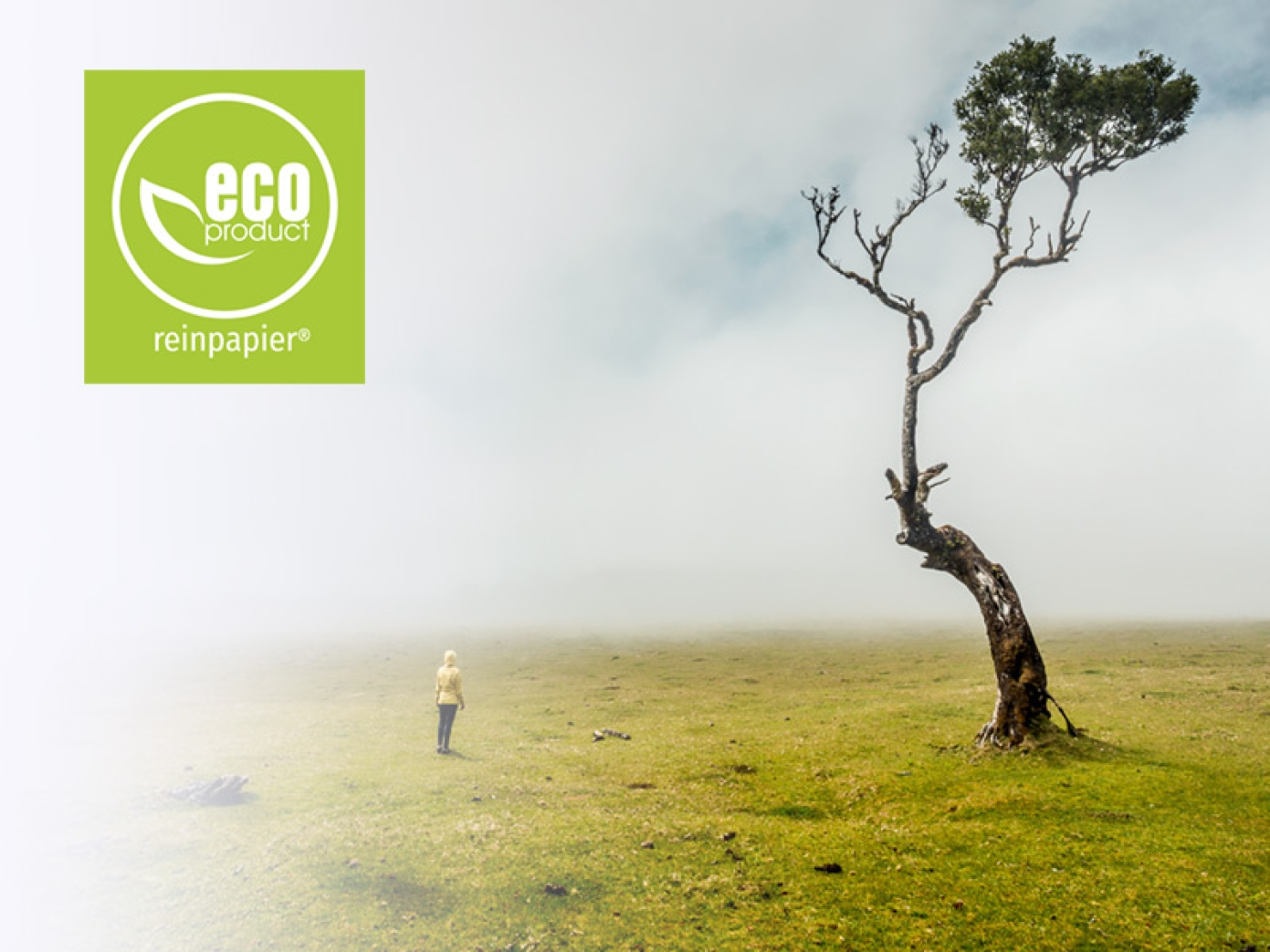 100% Sustainable Mix of Raw Materials
reinpapier® is paper injection molded packaging made from natural and renewable raw materials. These are: 70% Industrial starch, 12% Natural fibers, 18% Water and Premix.
With its 100% ecological material composition, the reinpapier® brand offers the unprecedented possibility of plastic-free packaging.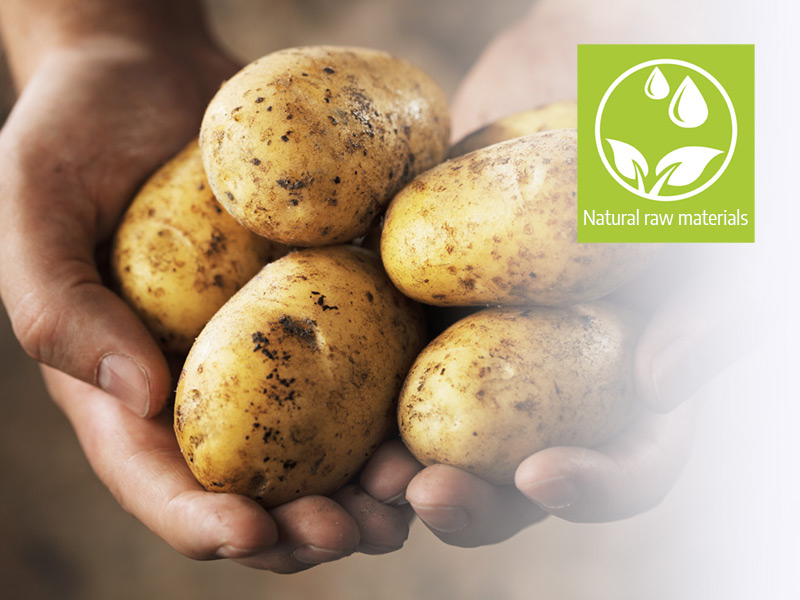 Decomposition without Pollutant Residues
The high starch content and the power of nature help to break down the material efficiently - Residue-free. In order to realize an optimal composting of the material, a correct aggregate state is essential, i.e. moisture and temperature values incl. bacteria must be correspond. In the following video time-lapse you can see the decomposition of two packaging trays within 60 days.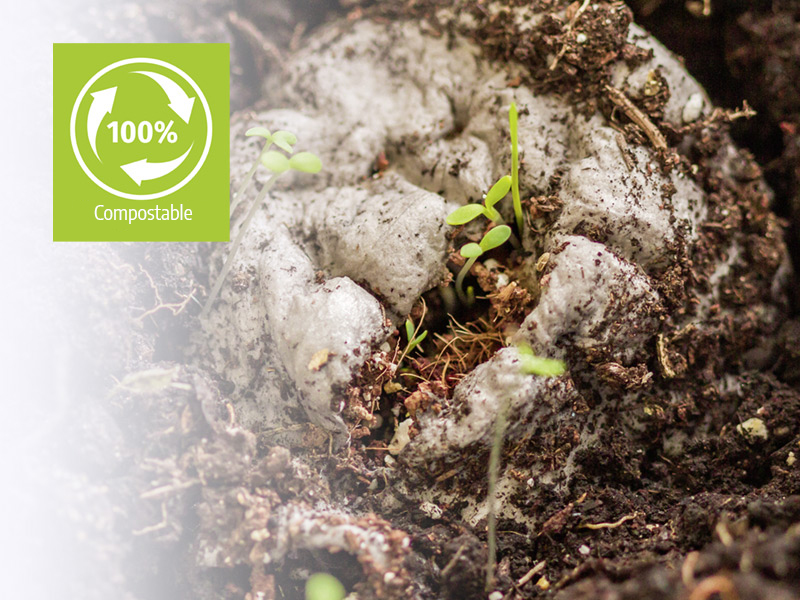 Completely Biodegraded in Just a Few Days
The ingredients of our reinpapier® packaging find their origin in nature. They therefore consist entirely of natural resources and are 100% compostable. In the video you can see how quickly the decomposition process of a reinpapier® packaging tray takes place under aerobic conditions.
When Natural Ingredients become a Quality Product – We call it reinpapier®
CO2 Low emission production
The CO2 footprint of reinpapier® is 85% is lower than that of comparable plastic, cardboard or paper pulp (pulp) packaging. This is the result of using renewable raw materials as a base, low water consumption during production, reduced packing weight, high energy efficiency in logistics and production and non-toxic waste disposal.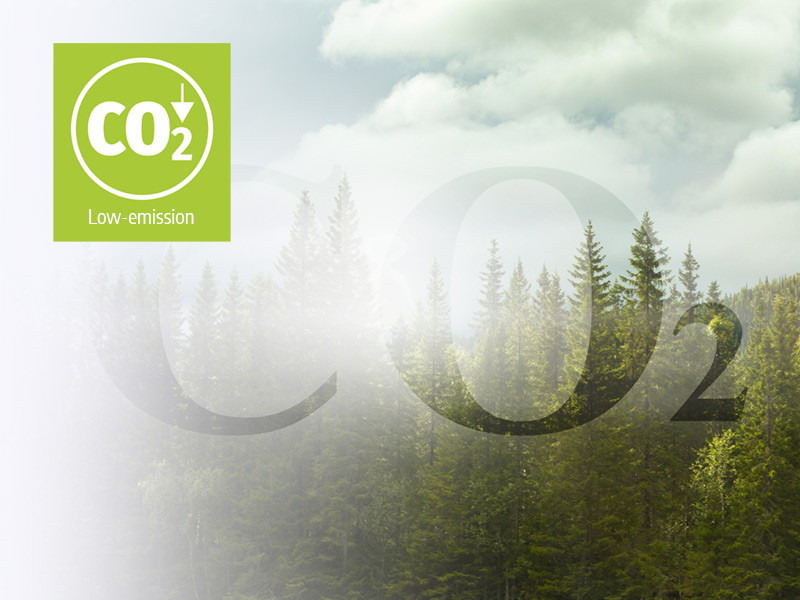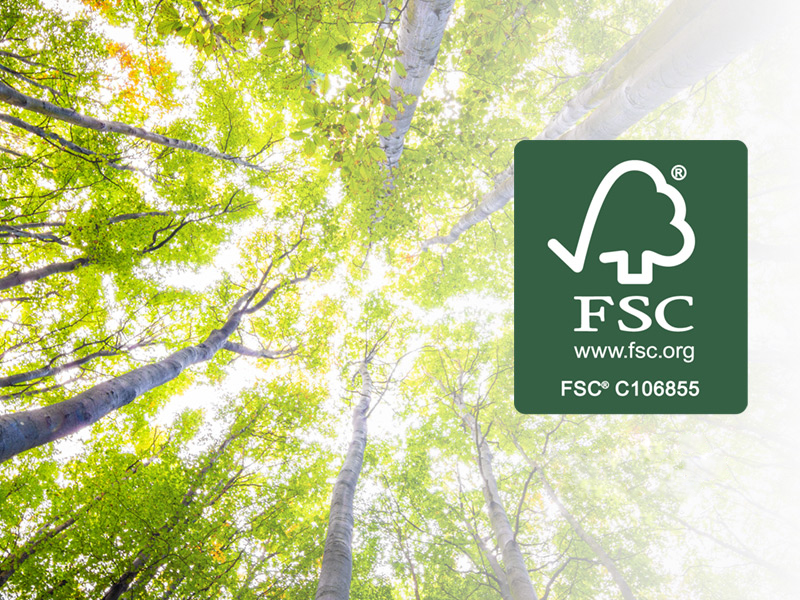 From FSC® Certified Forest
Preserving our forests for future generations is the goal of the Forest Stewardship Council®. 
To achieve this, the FSC® develops standards for responsible forest management. With our reinpapier® brand, we assume responsibility for the origin of the raw materials and make an active contribution to the responsible forest management and higher environmental and social standards in forests.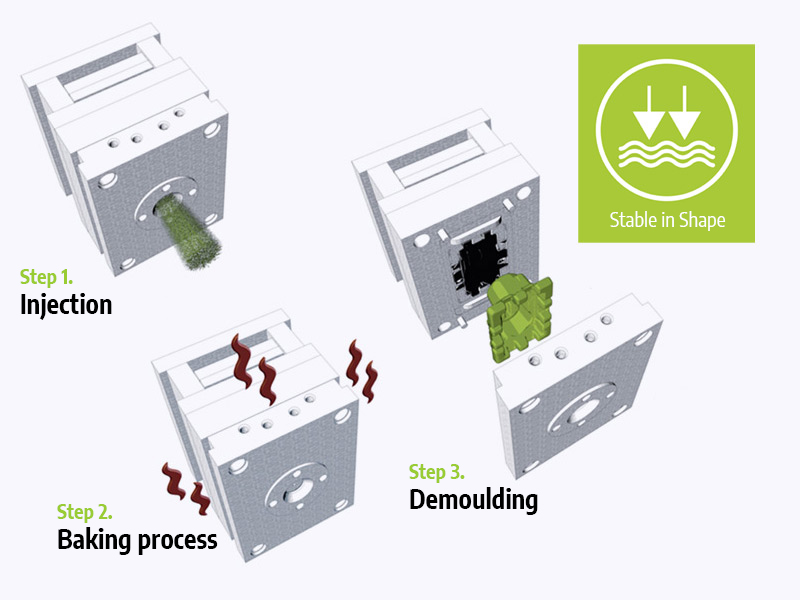 reinpapier® Ecological Production
The paper mix is injected into an aluminum mold by means of a specially developed injection molding process. The mold internal contours are achieved by applying a hard aluminum layer using an anodizing process. The paper mix is "baked" in the specifically designed mold at a regulated temperature. The finished part is then removed from the mold. Aluminum molds offer an excellent level of detail and a high degree of consistency to the packaging shapes. The special features of this injection molding process are the smooth surface structure and the increased strength of the material.
Variable wall thickness with reinpapier® plus
Our proven paper injection moulded packaging varies between wall thicknesses of 2.2 to 3 millimetres. This has many advantages, but unfortunately also limitations when packaging heavier products. With our further development reinpapier®plus we can now also present a more stable variant as a solution.
reinpapier®plus plus has the same ingredients but shines with a wall thickness of 5 millimetres. A potential substitute to replace more EPS packaging material (Styrofoam) and to sensibly expand the many positive reinpapier® features.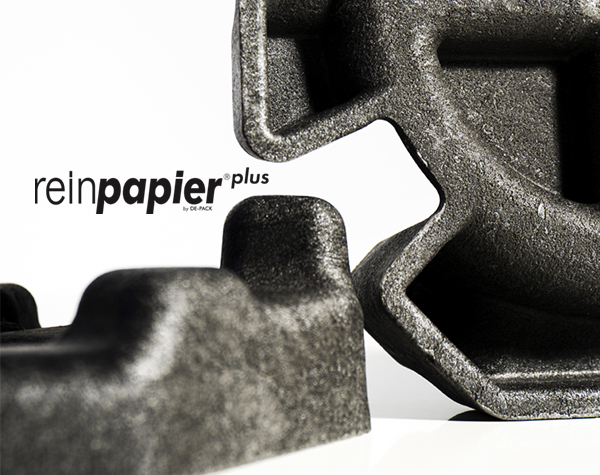 Saving Money on Transport
reinpapier® packaging is ultra-light. This leads to possible weight reductions of up to 40% compared to conventional products.
This reduces fuel consumption, cuts greenhouse gas emissions and reduces shipping costs. It also helps reduce the amount of waste produced.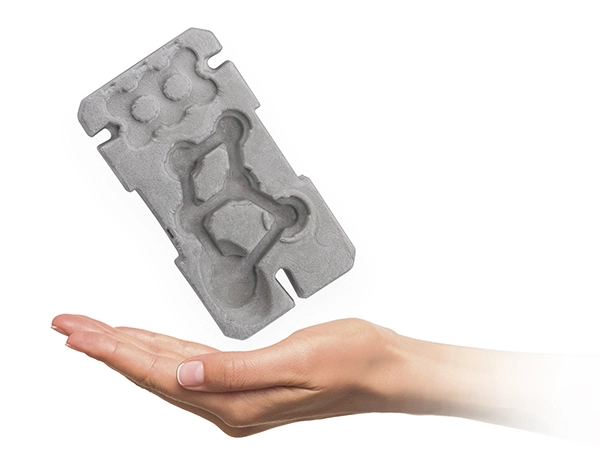 reinpapier® for Food Packaging
The reinpapier® brand was tested by the research and testing company ISEGA and was designated as SAFE and therefore compatible for use in the food industry.
reinpapier® can now be used as packaging for food without hesitation. Packaging is produced 100% organically, does not contain any toxic or harmful substances and is GMO-free (free of genetically modified organisms).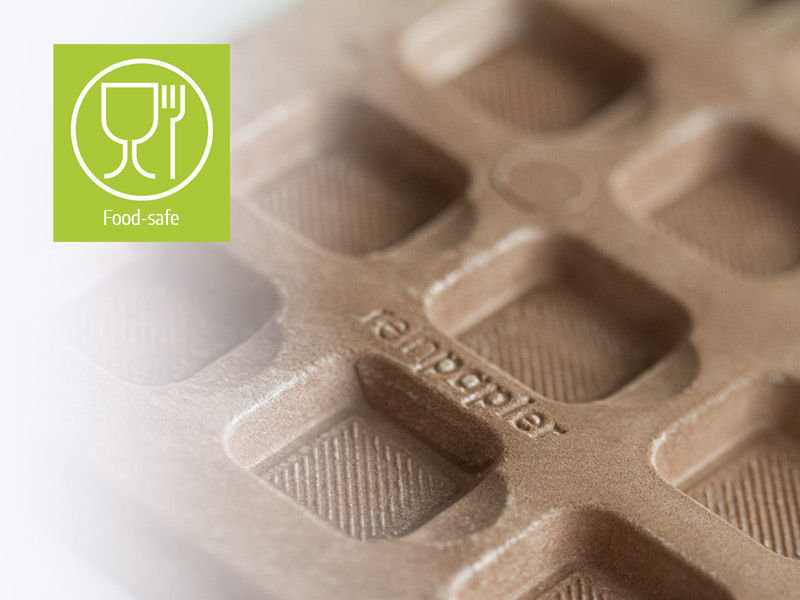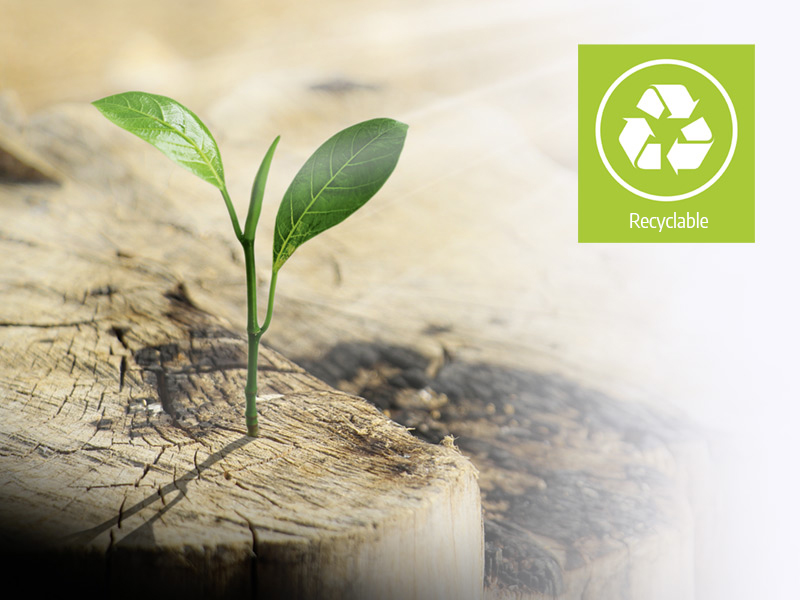 reinpapier® is 100% recyclable, so the end user can dispose of packaging parts at home together with waste paper and thereby return the material to the recyclability cycle. 
The paper fiber content of the packaging can even be reused in the paper manufacturing process. The additional new fibers even improve the quality of the paper produced.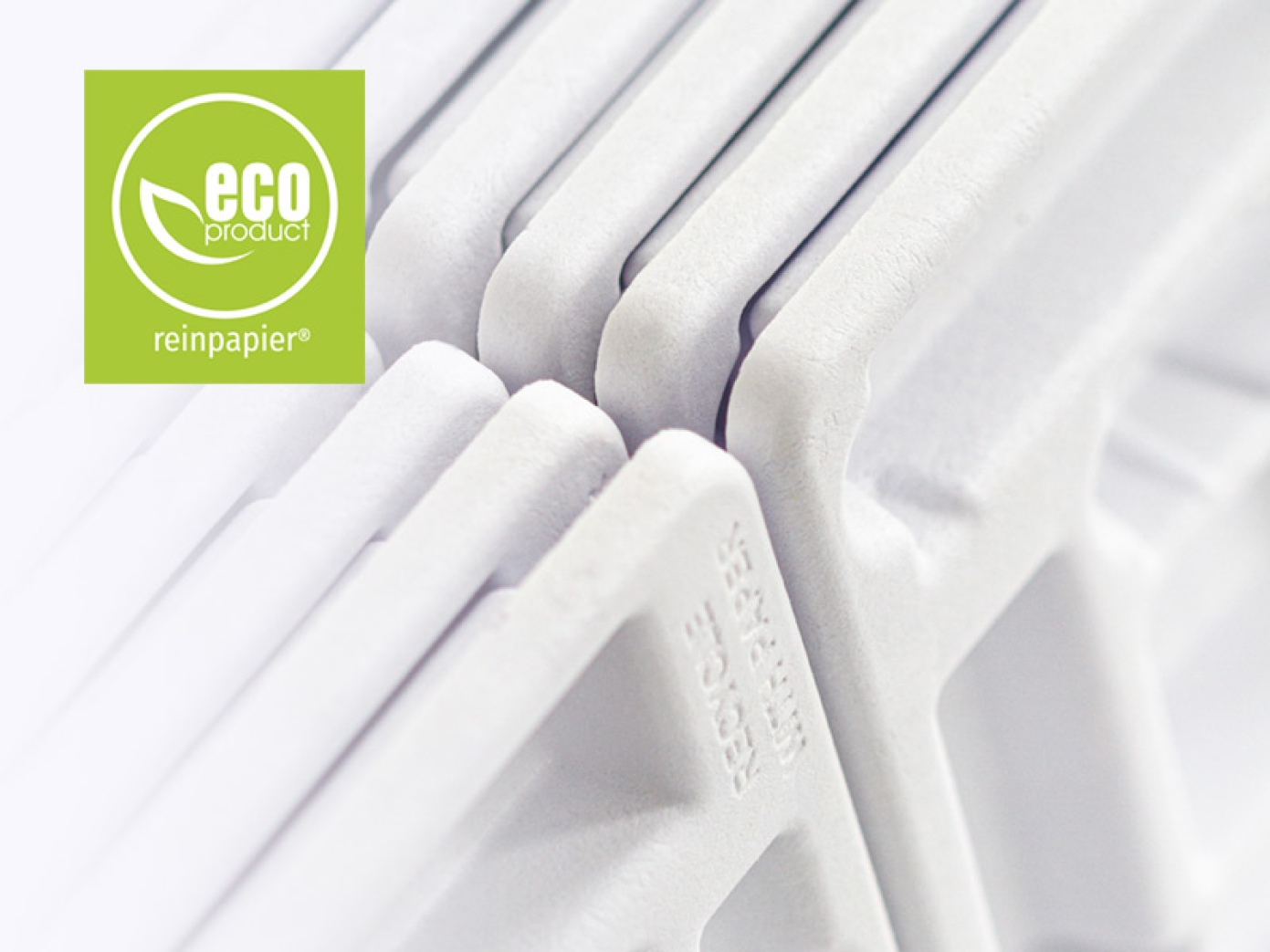 No Compromise in Handling and Protection
Know-how, engineering and design are among the most important fundamentals for us. Here, we give priority to handling and good stackability.
Advantages at a Glance
Made from renewable raw materials
Conserving resources - From FSC® certified forest
100% recyclable - Disposal with waste paper
Biodegradable and compostable according to EN13432
Non-toxic, food safe and environmentally friendly
Can be safely sterilized via gamma irradiation
The packaging is ultra-light and offers a potential weight reduction of up to 40% compared to conventional products
Material thickness 2.2 mm (minimum) to 5 mm for heavy packaged goods (reinpapier®plus)
High/deep embossing of logos or text possible
Excellent surface and scratch protection (packaged goods can be packed without polybags)
Molded parts can be nested and stacked
Resistant and dimensionally stable
Unlimited color possibilities
Precisely fitting and securing of products or product sets
Low CO2 emission production
Low Global Warming Potential (GWP) value
Industry-independent application possibilities
reinpapier® – Variety of Packaging
reinpapier® packagings can be used for a whole range of industries for transport and storage of your packaged goods.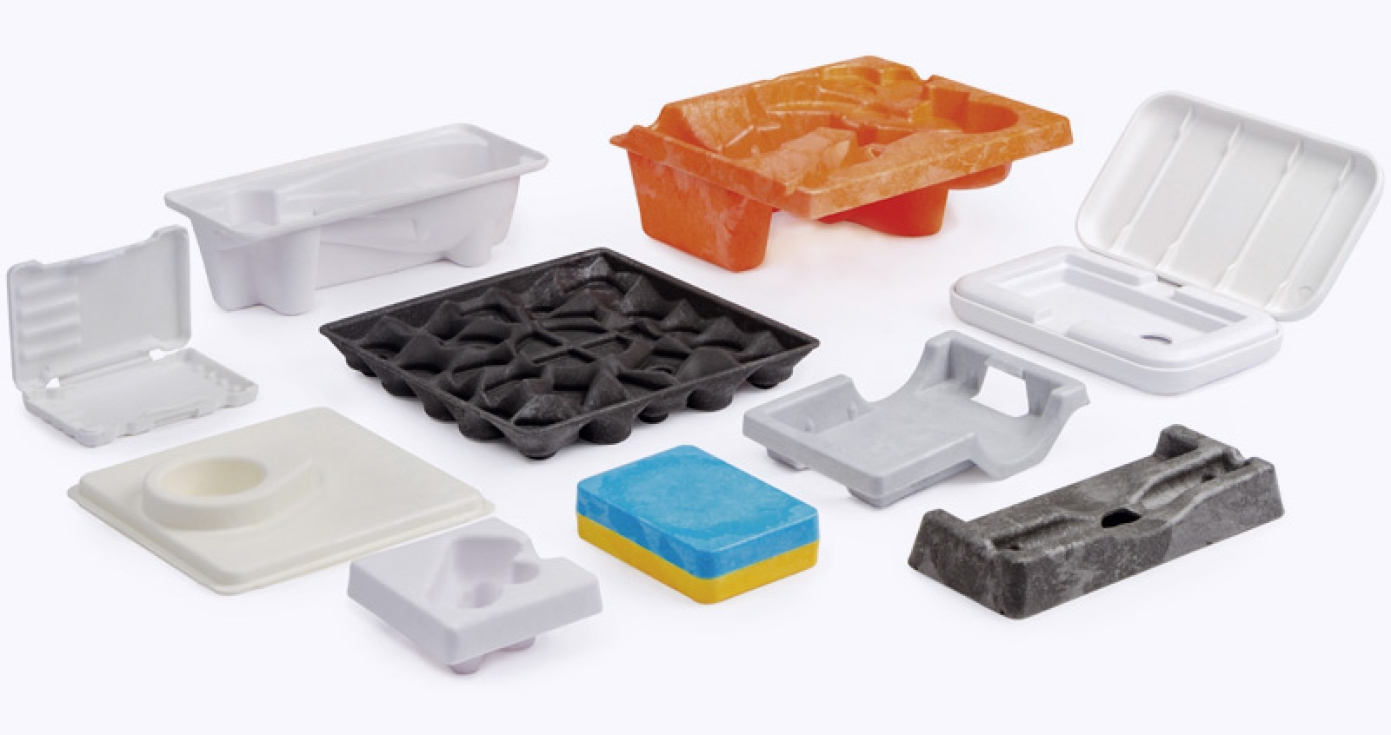 Here you can see how high-quality packaging can be achieved with reinpapier® using some of our current project examples.